Egyptology
It's only fair given that some of you visit this site looking for information about Egypt, when in fact the site name corresponds to a rhythm and blues band name, that we devote some of our page to Egyptology. In addition to responding to direct requests, we look at the search engine hits to figure out what people are looking for. Do not miss the Tomb of the Chihuahua Pharaohs.
Links to Egyptology Sites
The Curse of Tutankhamun?
Howard Carter discovered the tomb of Tutankhamun. Although the death of his patron Lord Carnavon and others, (including a parrot) have been connected to the opening of Tutankhamun's tomb Carter himself lived many more years to the age of 65, dying of natural causes. As per a request on the Dialog Page, we are trying to find if Georg Steindorf wrote anything about any curse. Steindorf appears to have been one of the sources Thomas Mann used for the Egyptology in his Joseph Series of novels.
Precedents for Frivolous Musical References to Egyptology
I'm not the first. Perhaps the best known references in music to Egypt are Verdi's Aida, Sam the Sham and the Pharaohs, Steve Martin's King Tut, and the costumes for Earth Wind and Fire and of course, Sun Ra.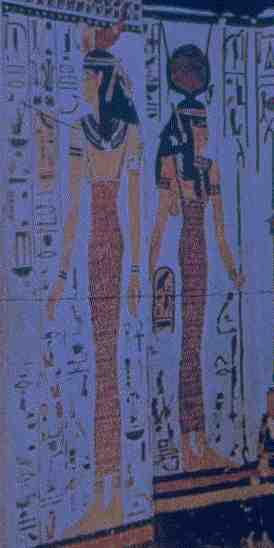 I don't actually know who the two ladies are in the paintings used in the border of this page. Based on their headgear, some guitar players would interpret the one on the left as the patron godess of chicken-head knobs and the one on the right as the patron godess of Danelectro Longhorn basses, also somehow associated with a Shure SM-58 so she might also be the patron godess of microphone placement and therefore one not to be trifled with.