Fender Custom Shop Gene Baker 051
(The "Scottish Telecaster")
This is the second maple topped Thinline Telecaster we've come across; (the other being the Merle Haggard tribute Telecaster.) But this one you really have to see to understand: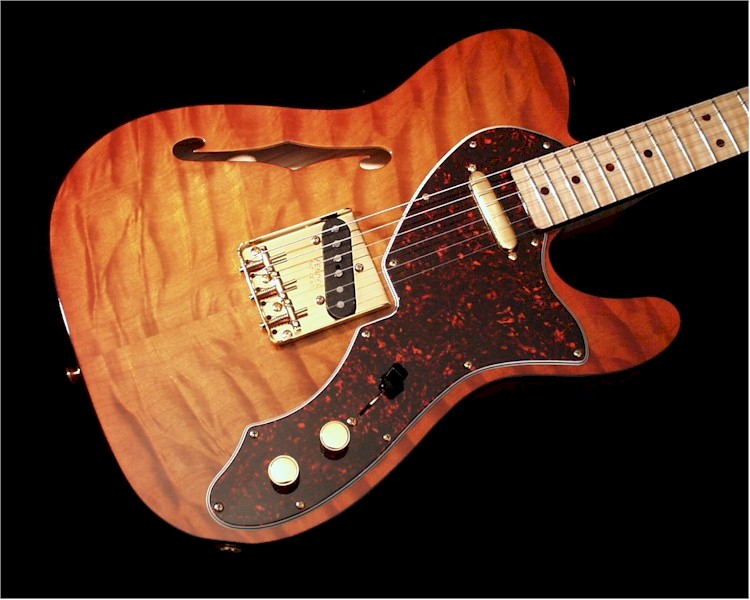 Over the internet, it's a little hard to know what colors you're looking at, but the figure on this maple top reminds us of plaid. The f-hole reveals the ash body. This is a good thing because it's stained in an odd way for ash: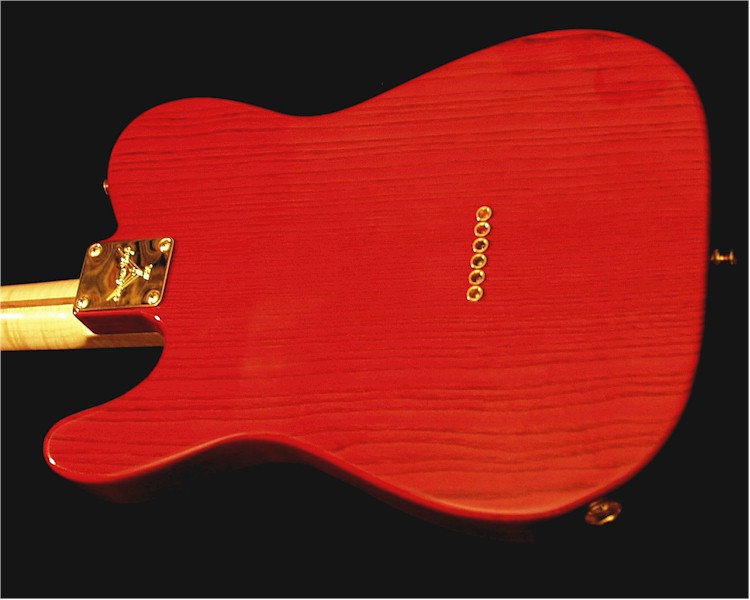 The color scheme on this guitar seems inspired by highway safety barrels. And there is one more detail which should be highlighted here:
Note the tortoiseshell motif that ties the whole concept together - the three ply tortoiseshell thinline style pickguard, the tortoiseshell binding on the top and neck, (I don't know of another bound one piece maple neck - it's not a cap.) The cherry on top of this confection are the tortoiseshell fret markers.
There's more to this that looks, though. The neck is a very narrow somewhat shallow V profile, the pickups are Seymour Duncan Alnico II single coils, and the switching is four way (the combined positions are in and out of phase). The maple over ash body, the maple neck, and these particular pickups combine to provide a cutting tone, such as could be heard over gunfire, (not unsimilar to the traditional requirement of the 'great pipes of war').
If you stand far enough back, the guitar suggests plaid, and the top color isn't that far from some single malts I know. With Duncan pickups that sound like bagpipes, it may be clear why we think of this as the "Scottish Tele".