The Thinline Strat and Tele
A modern Fender Mahogany Thinline Telecaster: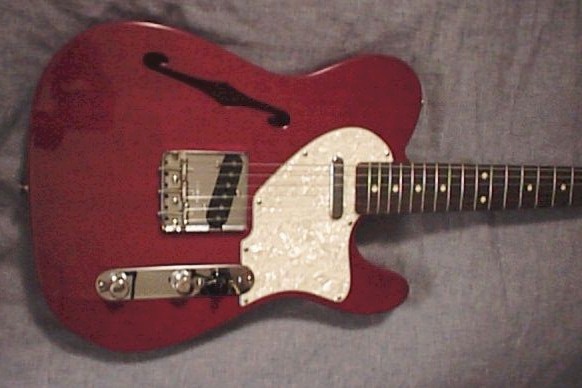 The pickups are Texas Teles so it's closer to the 1969's Mahogany Thinline than the 1970's. Here's the unusual part - the matching thinline Stratocaster:
The thinline body precludes the usual waist and elbow contours of the Stratocaster. The pickups are Texas Specials. The bridge is a normal Strat tremolo bridge. The orange paper dot still covers the tremolo bar hole - I don't use tremolo very much at all.
This is not the only Thinline Strat; Dweezil Zappa went one further and had the Fender Custom Shop make one with a reversed headstock. That guitar is alder bodied, has two rails for neck and middle, and a humbucker in the bridge, and a Floyd Rose. Want a look?